Field Locations
Prospect Park • Parade Grounds • Dewey Field / Sunset • DiMattina • Dust Bowl • Bensonhurst • Narrows • Van Voorhees • Shore Road • Red Hook • Holy Name Our Lady's Field • Ft. Hamilton High • Parkville •
PROSPECT PARK:
Directions: Go in the 9th Street entrance to Prospect Park on Prospect Park West. Walk straight east across the inner roadway, down onto the fields.  Field 4 is straight ahead—see the second map below which indicates the locations of all the fields by division.  You can also enter the Park on Prospect Park SW between 10th & 11th Avenue.
Closest subway stations:  F train – 7th Ave & 9th Street Station (7th Avenue stop) or 15th Street Station (15th Street stop)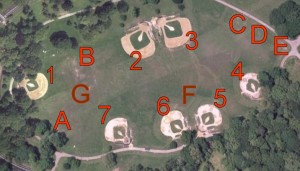 PARADE GROUNDS:
Location: On the corner of Parkside Avenue and Parade Place.  Field 6 is the corner field; Field 5 is inside the Park and is entered from Parade Place.
Closest subway station: Q Train to Parkside at Ocean Avenue (walk West along Parkside) or Q Train to Church at East 18th (Exit on Caton Avenue, walk East on Caton Avenue, then North on Parade Place).
DEWEY/SUNSET PARK:
Location: On the east side of 3rd Avenue between 40th and 41st street.
Closest subway station: N or R trains – 45th Street & 4th Avenue.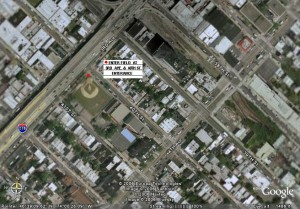 Click to enlarge image
DiMattina
Location: Hicks Street at Rapelye Street
Directions: Take 9th Street to Hamilton Avenue. Turn Right on Hamilton Ave. Turn Right on Hicks Street (right after the entrance ramp to the BQE). The field is immediately on the right.
Closest Subway: Carroll Street F and G trains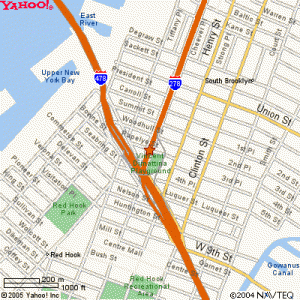 Dust Bowl
Location: 790 66th St, Brooklyn, NY, 11220 (8th Ave)
Directions: Take 6th Ave Exit (Exit 20) off 287 West heading towards Verrazano Bridge.
Closest Subway: 8th Avenue N Train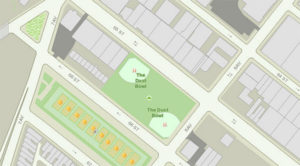 Bensonhurst
Location: Cropsey at 21st Ave
Directions: Take Prospect Expressway/RT-27 East towards Ocean Parkway. Continue on Ocean Parkway. Turn Right on Bay Parkway. Turn Right on Cropsey Ave to 21st Avenue.
Closest Subway: D and M trains to Bay Parkway, walk to Cropsey Avenue.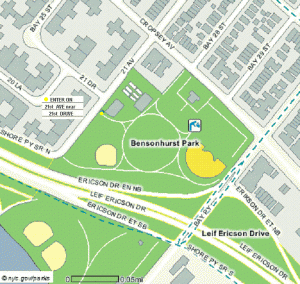 Narrows Fields 1 and 2

By Car: Take the Belt Parkway East, past the Verrazano Bridge. Take the Bay Parkway exit (past the Nellie Bly Kiddie Amusement Park), which puts you on Shore Parkway ˆ the service road. Follow Shore Parkway east straight, past 26th Avenue and past the Yacht Club. The fields will be on the right about 100 yards past Bay 44th Street. In the map, the larger field on the right is Field 1; the smaller field on the left is Field 2.
By Subway: Take the D train to the Bay Parkway station
By Bus: Take the #6 bus to 26th Avenue.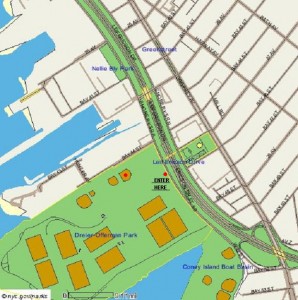 Parkville Field:

By Car:
Between 65th & 66th Streets between 8th-9th Avenues
Parkville